DFK ANZ is proud to be the sponsor of the 2015 StartupSmart award!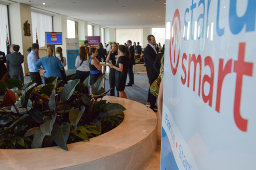 The StartupSmart Award is the competition that invites the best and brightest emerging businesses in Australia. A large number of start-ups entered last year's Award – over 300 – all demonstrating a stunning depth of innovative and fast growing entrepreneurial talent. Entries will be open for the 2015 Award January 13th.
Criteria for entry:
Entrants must have been in operation since July 1 2009
Businesses must report one full year of revenue, unless only entering the Best Startup Idea Award.
To be eligible for the Fastest-growing Business Award, businesses must have revenue over $250,000.
Founders must have at least 20% equity in the business
The business must not receive 50% or more of its revenue from government grants
The company must be Australian (not a subsidiary of a multi national).
DFK ANZ will be the presenting sponsor of the Awards for the third year in 2015.
"Our independent firms are all SME's too, so we understand what's required to successfully operate and grow a business in this space. The enthusiasm, commitment and vision of the business owners involved in the awards last year was inspiring and we're looking forward to providing support to this years entrants and winners too" says Stephen Bushell, the Chairman of DFK ANZ.
DFK ANZ firms are providing packages to all winners, finalists and entrants so they can tap into the experience, expertise, contacts and resources of our members right across Australia and the globe to assist all entrants' businesses with the services they need now. These may be traditional accounting services, business advice, R&D assistance, venture capital connections or other advice relevant to the business's needs.
Categories for 2015 include:
• Best start-up
• Best new start-up (fewer than 12 months old)
• Best disruptor
• Best social entrepreneur
• Fastest growing Startup
• Best regional start-up
• Best Startup Idea
• Start-up hero
Please click below to transfer to the Startup Smart website which gives details of the 2015 awards and entry to the awards.
With a commitment to support growing businesses with their compliance and business advisory needs, DFK ANZ is looking forward to providing guidance and service to any participants in these awards. Feel free to contact us!
For a discussion with one of our Directors about what we can offer your startup business, call 1300 DFK ANZ (1300 335 269).